Hello pretties! I would like you to join in me in welcoming this month's GLAMOUR Spotlight Sponsor: Kim from
My Life According to Pinterest
! Each Thursday this month, she will be featured. For today's post, let's all get to know her a little better! Be sure to visit her blog & say hi for me!
Hi All That Glitters Readers!
I am so excited to be featured here today.
I'm Kim and I blog over at My Life According to Pinterest.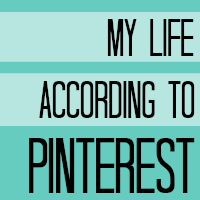 I'm relatively new to blog life, but am loving all the great people I am getting to talk to every day and all the bloggy friends I am making.
I was an elementary school teacher for 9 years and loved it. But this year I've started the best job ever- MOM. My baby boy was born in September and just turned 6 months old. He's super cute and cuddly and I am loving being a mom, but I wanted something else to do that could help connect me to other adults during the day. I turned to blogging and haven't looked back yet.
So, you probably want to know a little bit about my blog. Well, it's all about the neat stuff I find on Pinterest- recipes, crafts, home decorating, teaching ideas and babies. I figured I should put to use all those hours I spent pinning away! I also like to do awesome reviews and giveaways for my wonderful readers! Plus, there's plenty of adorable photos of my

baby boy cause he's the biggest part of my life (and who doesn't love pictures of cute babies!).
You can come find me at these places:
SUPER excited to have you Kim! Thanks for supporting All That Glitters!